JRF Magnetic Sciences offers head relapping plus new and reconditioned magnetic heads for analog tape recorders manufactured by Ampex, MCI/Sony, Otari, Studer, Tascam, TEAC, Mincom and most other companies. JRF's lab offers a precision head relapping and digital optical assembly alignment service for all heads, from recording studio to duplicating plant. Support products include alignment tapes, test tapes, and calibration tapes and films by MRL and EMTEC. JRF also sells Nortonics heads, upgrades, and Athan replacement parts for most analog audio recorders, tape duplicators, and parts for pro video recorders.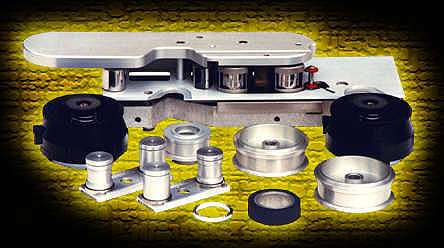 ---
You have reached the "no-frames" page of the JRF Magnetic Sciences website, most likely because you do not have a frames-capable browser such as Netscape 4.0 (or newer), Internet Explorer 4.0 (or newer), Omniweb 4.x (or newer), Opera, or iCab. In order to view this site, you must have one of these browsers.
If you still get this page after switching to a compliant browser, please check your Preferences (or Options) settings, and then notify the webmaster if you have no luck.
©2013 JRF Magnetic Sciences. All rights reserved.