More than two decades after it was first introduced, the half-inch two-track analog format has been firmly reestablished as the preferred medium for high quality music mastering. No other recording format, analog or digital, can offer the same combination of wide dynamic range, low noise, long term stability, universal acceptance by mastering houses, plus that ineffable quality known as "musicality."
Unfortunately, despite its resurgent popularity, the half-inch two-track format has been largely abandoned by the remaining major manufacturers of analog recorders. Used machines already in this format are in very short supply and quite costly. Consequently, the only practical alternative for most facilities is to convert a 1/4-inch machine to the half-inch format.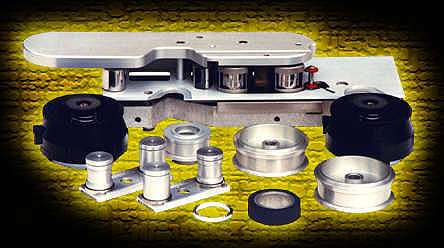 No other company in the world can match JRF's expertise in performing half-inch conversions. We have completed several hundred conversions on everything from almost-new Studer and Otari machines to vintage tube units from the 1960's. We carefully source all our parts from original manufacturers, when possible, or from other custom suppliers known for quality and reliability. With some machines, you can choose from two or three head options: original manufacturer, Flux Magnetics, or JRF's own PLX replacement heads.
JRF kits include all parts necessary for a recorder technician to perform the conversion. Normally the kit is supplied with all heads pre-mounted and optically aligned on the head block assembly. (You can save several hundred dollars by sending your existing head block assembly to us for head mounting; a second head block assembly is not required unless you need to change between 1/4- and 1/2-inch formats.) Kits are also available for those who wish to convert a 1/2-inch four track to two track operation.

And, if half-inch two track still isn't quite up to your standards, why not consider a full-blown one-inch two track recorder?



If you or a member of your staff has experience in analog recorder maintenance, you can save hundreds of dollars in labor costs and shipping charges by performing your own conversion. Standard kits for most popular recorder models, as listed below, are normally kept in stock and are available for shipment as soon as your new heads are mounted and aligned. (Some delays may be encountered in times of high demand.) Kits for other recorders are available on a custom order basis. If it's analog...give us a call!


We strongly recommend that your new 1/2-inch heads be mounted and optically aligned here at JRF, either on your existing 1/4-inch head assembly (sent in to us for conversion and reconditioning) or on an assembly provided by JRF at additional cost. All parts are new except replacement head assemblies, which may be reconditioned. Reconditioned heads may be available, as well, at considerable savings, based on current availability.
For more detailed information and pricing, please take a look at our price sheet.


Kits for conversion of four track machines are available as well. Cost is usually substantially less, since transport components need not be converted to accommodate the wider tape.



Click on a thumbnail photo to open a new window showing an enlarged picture of that kit.
| | |
| --- | --- |
| Ampex ATR1O2 | |
| | Includes Flux Magnetics "ME" series erase, record and playback heads. Transport kit includes roller guides and reel hold-downs. |
| Studer A80 VU and RC | |
| | Customer may choose either PLX premium quality or Flux Magnetics extended-performance erase, record and playback heads. Transport kit includes tape tension sensor roller assemblies, guide rollers, move sensor roller, stabilizer roller, pinch roller, and modification of customer's 1/4-inch reel hold-downs to 1/2-inch. All rollers incorporate Swiss-made class 7 bearings. |
| Otari MTR 10/12 | |
| | For erase, record and playback heads, customer may choose original Otari heads, Flux Magnetics extended performance heads, or PLX premium quality heads. Transport kit includes all rollers, reel hold-downs, pinch roller and a two-channel electronics modification kit with all required components and detailed instructions. |
| MCI JH11O A/B/C | |
| | Includes PLX premium quality erase, record and playback heads. Transport kit includes roller guides, dancer roller guide, reel hubs and pinch roller. |
| Sony APR 5000 | |
| | Includes PLX premium quality erase, record and playback heads. Transport kit includes roller guide conversion caps, pinch roller and reel hold-downs. |
At JRF, we can supply heads and transport conversion parts for virtually any 2-track professional recorder, including Ampex 350, 440 and MR7O; 3M Mincom M23, M64 and M79; Studer C37; and Otari MTR-15.
And remember, if half-inch 2-track STILL isn't up to your standards, and you want the absolute in analog performance, check out our one-inch 2-track conversions. (Yes, we have done a few!)
• Go to our half-inch two-track price sheet.
Prices and availability of custom conversions quoted on a case-by-case basis.